Famine Walk
Distance: 2.2 miles/3.52 km
Time: 45 minutes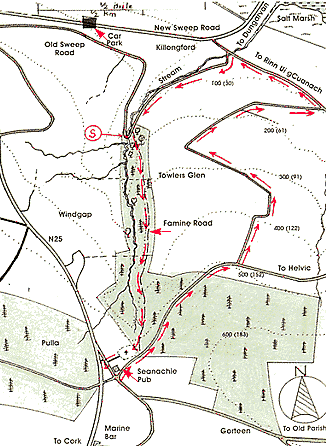 Part of this short walk follows the Famine Road which leads uphill from Killongford to the Famine Graveyard in Pulla. This Famine Graveyard which is situated close to the Seanachie Pub is really a mass grave where the bodies of large numbers of people who died during the famine of the 1840's are interred. The bodies, mostly from the town of Dungarvan were carried to the site by horse and cart. The last stage of this journey followed the boreen (now called the Famine Road) that ascends the wooded Towlers Glen for about 1.75 miles/2.8 km.

The Graveyard has been recently cleared and marked with a commemoration monument. As well as the traditionally thatched pub "The Seanachie", another pub called the "Marine Bar" which is located about 400 yards/122m to the south along the N25 can also be visited.
Location
2.5 miles / 4km from Dungarvan. Take the road to Cork and turn left towards Ring (Rinn Ui gCuanach). Take the right turn immediately after this, and the walk begins at a hairpin bend about 0.5 miles/0.8km.
Directions

The walk begins by going over the wall at the left of the hairpin bend. By then walking forward a forest track which is well hidden among the trees is reached. This is the old Famine Road and the trail follows it uphill crossing two farm roads on the way. After about 15 minutes walk the graveyard should be visible on the right. After leaving the Graveyard the trail continues south on a short lane which leads to a public road. A left hand turn takes it to the Seanachie Pub and another left after the pub takes the trail north on a tarred road. The first left after about 0.5 miles/0.8km takes the trail back downhill to the start by way of a winding road.
Walk 1 | Walk 2 | Walk 3 | Walk 4
E-mail: info@waterfordcottages.com Telephone: +353 - (0) 58-41321
Coole Country Cottages © 2001