Brickey River & Kilnafarna Hill
Distance 7.5 miles/12 km
Time: 3 hours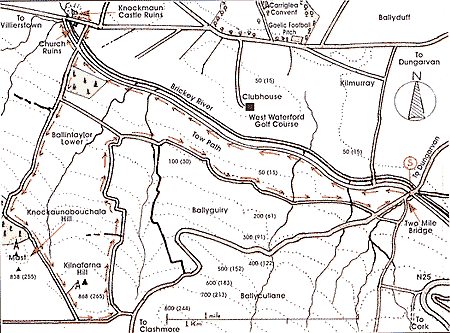 This is the longest trail in this site. The first section is on a grassy but solid road along the banks of the Brickey River and ends at the ruins of Knockmaun Castle. This Castle was owned by Sir Richard Osbourne in the 15th Century. It was totally destroyed by Cromwell in 1650 before he entered Dungarvan. The River derives its name from the O'Brics who were chieftains to the Deise, the Deise being a tribe who made settlements here around 300BC. The riverbank has an excellent vegetation of Alder, Willow, Sally etc. Interesting bird life includes Kingfisher, Grey Wagtail, Long-tailed Tit and occasionally Green Sandpiper. The river was dredged as far as the Castle in the 19th Century as part of a proposed canal which was to connect with the Blackwater, but the project was never finished. The second section ascends from the Brickey valley at a 100ft/30m to Kilnafarna hill at 868ft/264m.

Location
The trail begins about 2 miles/3.2km from Dungarvan on the Dungarvan to Clashmore road. After crossing the bridge (appropriately called Twomile Bridge) take the road going right to begin the walk.
Directions

After about 400 yards/366m the tarred road veers right and the trail continues straight on the grassy road for about 2 miles/3.2 km. About halfway the trail passes West Waterford Golf Club which can be seen on the opposite bank of the river. Approaching the end of the stretch the ruins of the Castle appear ahead perched precariously on a sharp limestone knoll. The trail takes the left at the "T" junction and heads east in front of the Castle. Just beyond the Castle ruins at the opposite side of the road are the ruins of Knockmaun Church. Turning right immediately after the Castle the trail continues south ascending out of the valley. Thus it follows a narrow quiet road which has a steep gradient and veers left of Knockaunabouchala Hill with its TV mast. It continues around Kilnafarna Hill whose mast can be reached via the spur road to give an excellent 360 degree view of the surrounding countryside. After two left turns the trail returns back down the valley on the road as shown. A right taken at the "T" junction returns the walker to the start.

Options
This long trail can be divided into 2 shorter walks:
1. the first section as far as the Castle and return by the road to the south.
2. the second section which ascends to the top of Kilnafarna and back.
Walk 1 | Walk 2 | Walk 3 | Walk 4
E-mail: info@waterfordcottages.com Telephone: +353 - (0) 58-41321
Coole Country Cottages © 2001