Cruachan
Distance: 6 miles / 9.6 km
Time: 2 3/4 hours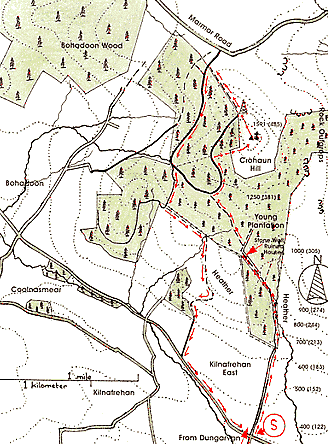 This trail takes the south facing slope of Cruachan Hill. This hill offers a double vantage point being close both to the Coast on the south and to the Comeragh Mountains on the North. The summit on a clear day allows a 360 degree view with many features e.g. the coast from Youghal to Tramore, the Knockmealdowns to the north west and the Comeraghs to the north. The trail is over paths, forest roads and quiet country roads. Some of the paths are quite rugged and good footwear is advisable. This is quite a good walk in late summer and autumn when the Common Ling or Common Heather and Bell Heather in bloom paint the landscape in a blanket of mauve.

Looking toward Cruachan Hill
Location
About 4 miles due north of Dungarvan. Take the Waterford road from Dungarvan and turn right just after the "end of speed limit" signposts. Continue straight at the first junction then right at the second one. The beginning of the trail is at the next junction.
Options
A short trail begins at the Marmar road and follows the new forest road south and links up with the main trail which it follows to the summit. The hill is descended by the path or firebreak as described above.
Directions

The trail follows a boreen for about 0.5 miles and then a forest road to the right of a Pine plantation. This road soon passes within the plantation boundary with trees on each side. Where it emerges to the open, the trail veers left following the northern boundary of the plantation with a stone wall and a ruined house to the right. The trail turns right following the wall then left after 50 yds/45m. It intersects with a new forest road which it follows to the right.
Turning off this road before the mast up ahead is reached it goes left over a wooden stile and climbs sharply to the summit. The return trail descends by the path or firebreak to the north (right) of the mast and reaches the forest road again. It follows this south for about 0.5mls/800mm where an intersection is reached. The new road turns left to climb towards the summit, an older road continues downhill to the south. The trail continues south on this older road and soon turns left onto a grassy farm boreen lying between a stream and fence. Two gates are crossed before the trail leads downhill over open heather. It reaches a public road and left to the starting point.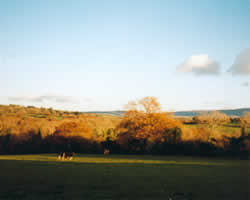 Walk 1 | Walk 2 | Walk 3 | Walk 4
E-mail: info@waterfordcottages.com Telephone: +353 - (0) 58-41321
Coole Country Cottages © 2001