COLLIGAN WOOD
Distance 3.5 miles/5.6 km
TIME: 1.5 hours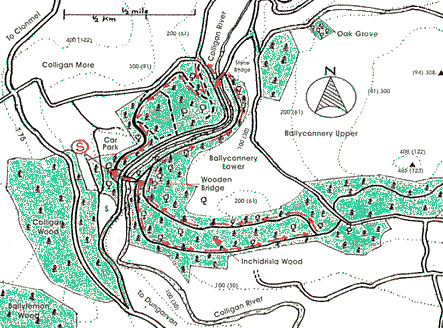 This trail takes the walker through the woodland positioned along the valley of the Colligan River. A wide range of tree species is present. Deciduous trees such as Oak, Beech, Chestnut, Spanish Chestnut occur. Conifers include Sitka Spruce, Norway Spruce, Cyprus, Douglas Fir and Spruce. Hazel, Alder, Holly, Broom and Gorse are also present. Because of the presence of many clearings and deciduous groupings an excellent selection of woodland flora is present. Wood Sorrel, Woodrush, Wood Sanicle, Common Heath or Heather, Bedstraw, Bilberry (locally known as "Hurt" Bush) and Bluebell are only a selection of those to be seen.
Birdlife includes: Cliffchaff, Thrush, Coal Tit, Goldfinch; and with luck, elusive Treecreeper and Jay may be spotted.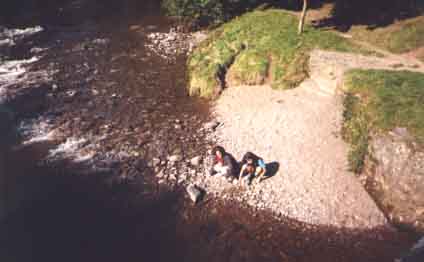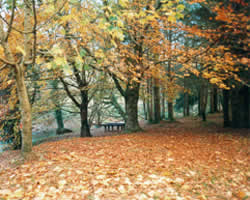 At Play along the Colligan River
Location
About 5 miles / 8 km from Dungarvan (R672) on the Clonmel road. Turn right from the road and this takes you to the Car Park shown on the map.
Directions
After crossing the Wooden Bridge opposite the Car Park the trail turns right on the forest road which is parallel to the River. It climbs gradually through the woodland for about 1 mile / 1.6 km. By taking a left onto another road as shown, the trail leads back down to the River. It now continues along by the River and away from the Wooden Bridge for about 0.5 miles / 0.8 km where it leads to a tarred road. After a left over the Stone Bridge, and a right at the "T" junction the very narrow path shown is reached and this takes the trail up into more woodland. Soon after a sharp right the trail joins a Forest Road and returns to the Car Park.
Options
The sections of the trail at each side of the River can be treated as separate shorter routes.
Walk 1 | Walk 2 | Walk 3 | Walk 4
E-mail: info@waterfordcottages.com Telephone: +353 - (0) 58-41321
Coole Country Cottages © 2001