Along the Waterford Coast
Ardmore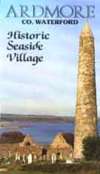 The patron saint of Waterford County is Declan, the missionary who converted the area to Christianity a decade before Patrick arrived in the north.
Legend has it that Declan forgot his bell on the way to Ireland, but his prayers were answered when the bell appeared atop a large stone floating on the sea.
When the stone landed in Ardmore, Declan knew just where he had to set up his monastery.Visitors can enjoy Ardmore's sweeping beach and the famous Round Tower and medieval scultpures.
Ardmore is a recent national winner of Ireland's Tidy Towns award.

Ring Gaeltacht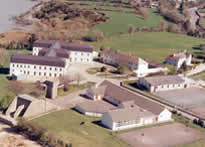 Ring, or An Rinn, is Ireland's most isolated Gaeltacht, or Gaelic speaking area. Several hundred families conduct their daily business in the Irish of their ancestors.
Ring College is probably the most famous Irish school in the nation. They have a year round boarding school, but the place really jumps in the summer when hundreds of students from all round Ireland come to learn and practice Ireland's second official language.
Pubs like Mooney's and the Marine Bar, are gathering spots for local musicians. Several restaurants specialise in seafood which the local fishing boats supply in abundance.

Sea Cliffs, Beaches and Tramore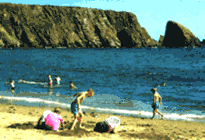 The Waterford Coast is a maze of spectacular sea cliffs, publicly accessible little beaches, coves, streams feeding into ocean, sea stacks and tide pools.
The tacky, but fun seaside resort of Tramore is a 40 drive away. There are rides for the kids, good restaurants and junk food bonanzas, a vast beach and a Swim World with pools, slides and artificial waves.

Hook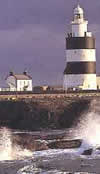 Hook is the oldest continually occupied lighthouse in the world. Or, at least it was until automation caught up with this continually refurbished early medieval structure in the 1990's.
It's still a fine spot to visit as it juts out on the long, long Hook peninsula.
A scramble round the rocks of Hook turns up blowholes, tide pools and marine creatures of all types. The Peninsula features ancient castles and, on a clear day, huge views.
E-mail: info@waterfordcottages.com Telephone: +353 - (0) 58-41321
Coole Country Cottages © 2001